Best Google Meet Chrome Extensions 2022
15 Mar 2022 - Lundin Matthews
Google Meet is an amazing service for connecting with friends, family, and colleagues – but often times there are features you wish Google Meet had and luckily we've compiled a list of the best google meet chrome extensions in 2022...
The Chrome Web Store is where you can find thousands of Chrome Extensions that improve your Google Chrome browser experience. You can search for specific keywords, such as Google Meet, to find Google Meet Chrome Extensions that enhance the Meet experience.
In this post we'll not only cover what are the best extensions for Google Meet, but we'll also look into google meet extensions for teachers, and google meet extensions for students.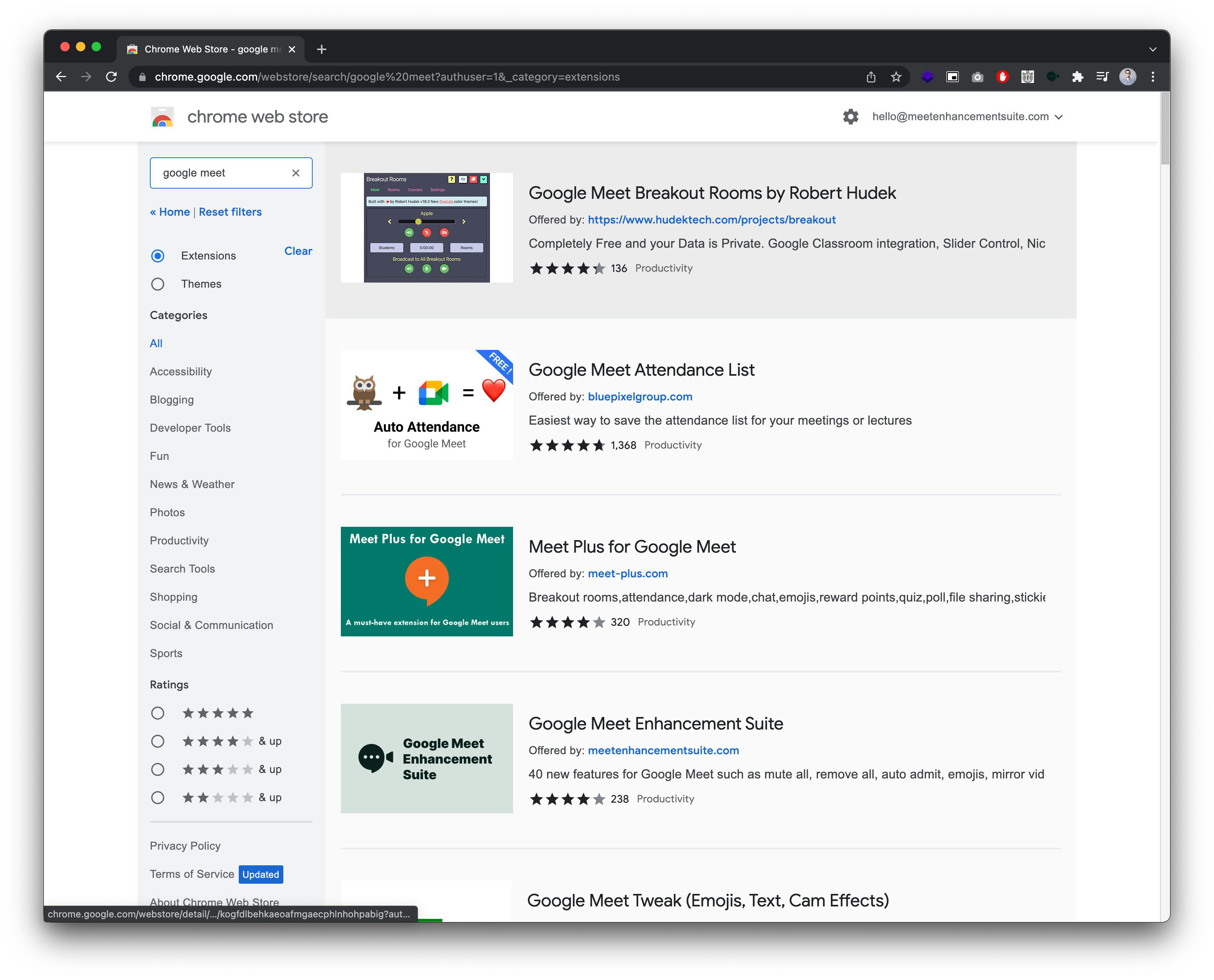 People often ask how can we add extension to Google Meet – and the good news is that it's super easiy! To download extensions for Google Meet all you need to do is head to the Chrome Web Store, in the search bar on the left side search for 'Google Meet'. From there you will be presented with a list of the best Chrome Extensions for Google Meet. From there you can browse the Chrome Extensions, and when you are ready to add one simply click the "Add to Chrome" button in the top right hand corner.
Best Chrome Extensions for Google Meet in 2022
In this blog post we'll cover what extensions are available for Google Meet, and which ones are the best to use in 2022. Whether your looking for Google Meet Extensions for teachers, or google meet extensions for students, your bound to find what your looking for in this list of chrome extensions for Google Meet.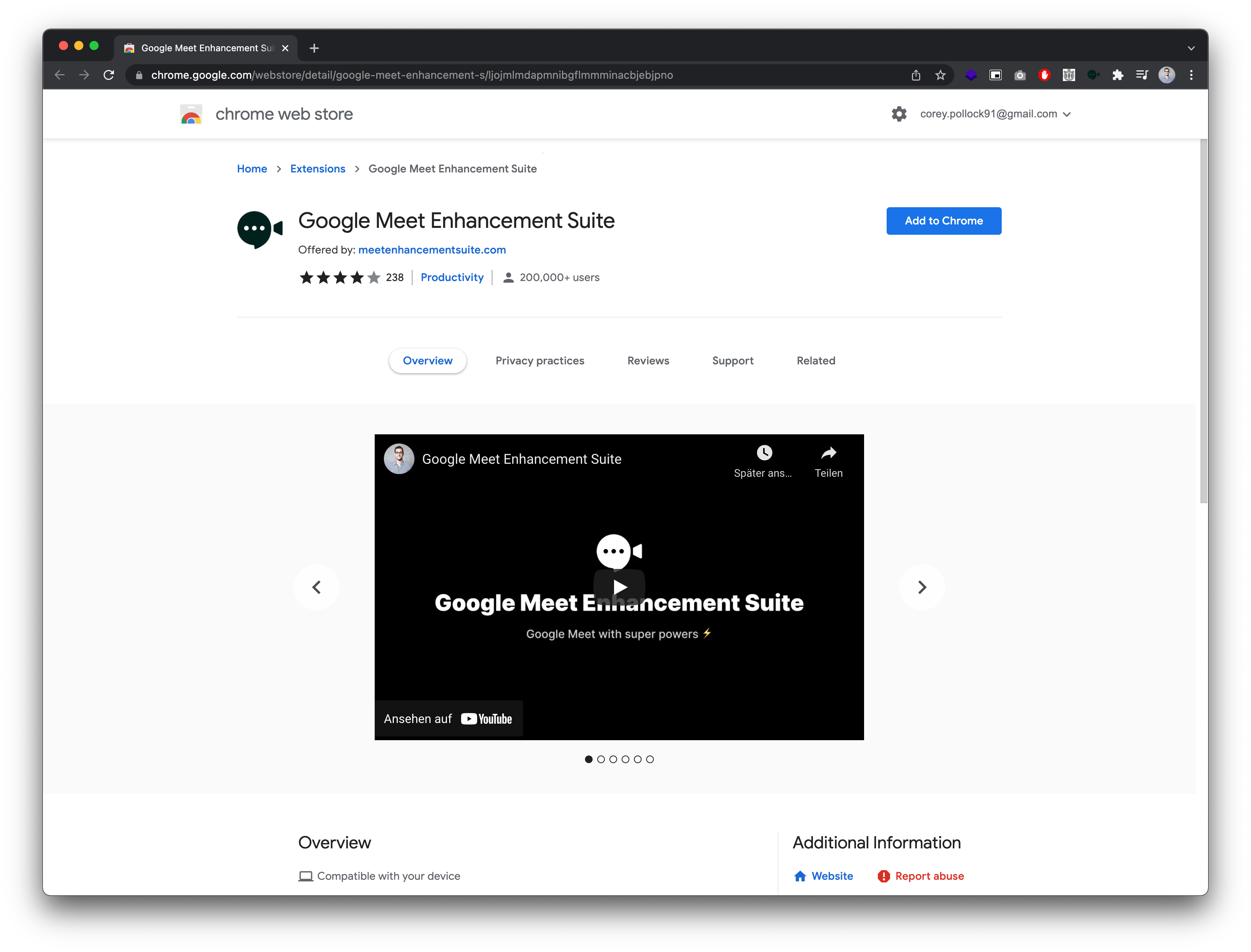 Meet Enhancement Suite improves the Google Meet experience with a set of over 40 features and smart defaults. New features for Google Meet such as mute all, remove all, auto admit, emojis, mirror videos, background color, and push to talk!
Meet Plus (also known as Google Meet Plus or GMP) is a must-have extension for Google Meet users. It provides users a way to collaborate, interact, and having fun with each other in real-time. Adds features like Breakout rooms, attendance, dark mode, chat,emojis, reward points, quiz, poll, file sharing, stickies, and many more features for Google Meet.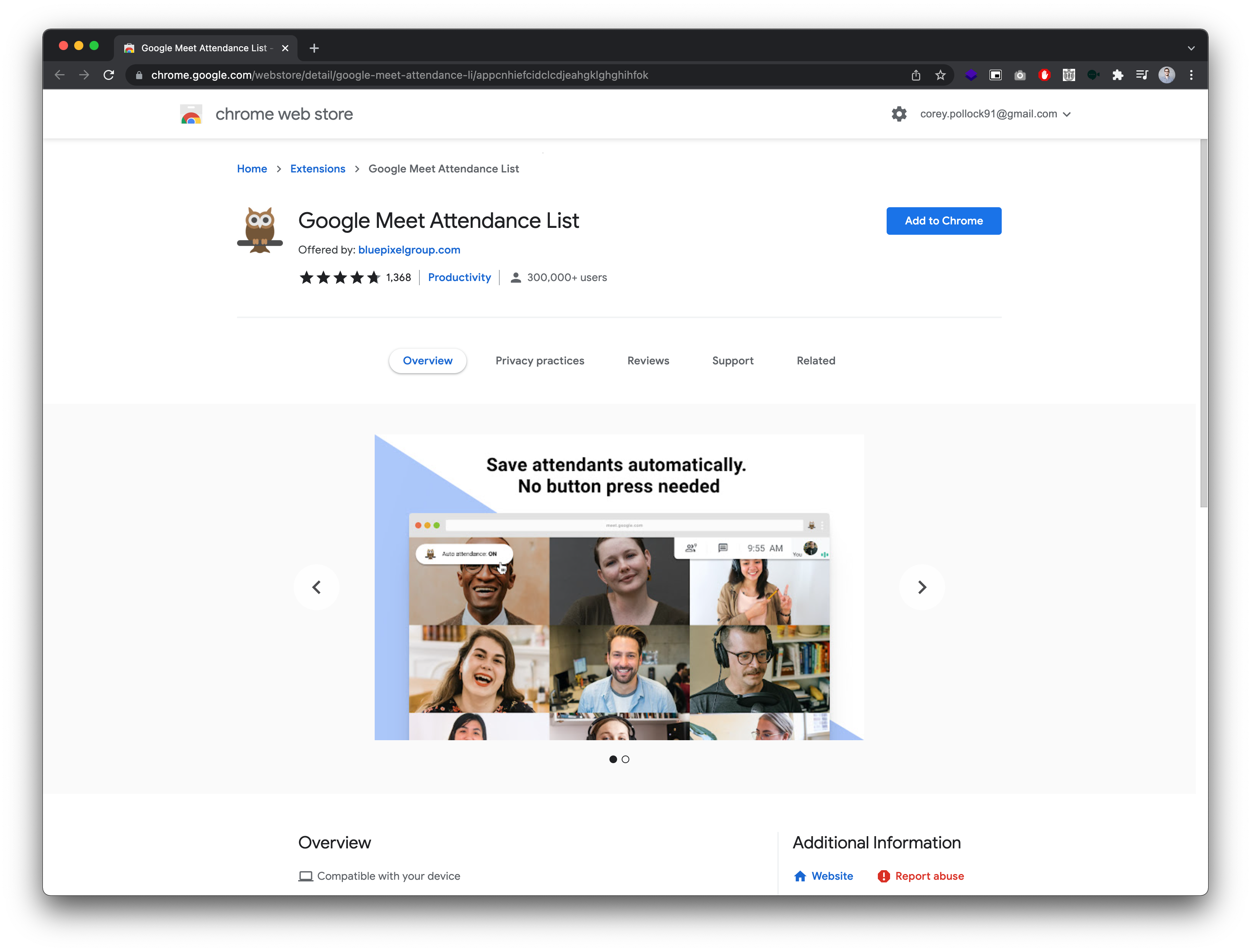 Simplest way to save the attendance list for you meeting or lectures. From teachers to business professionals, this extension is intended to create a simple way to have all the meeting attendees on a list.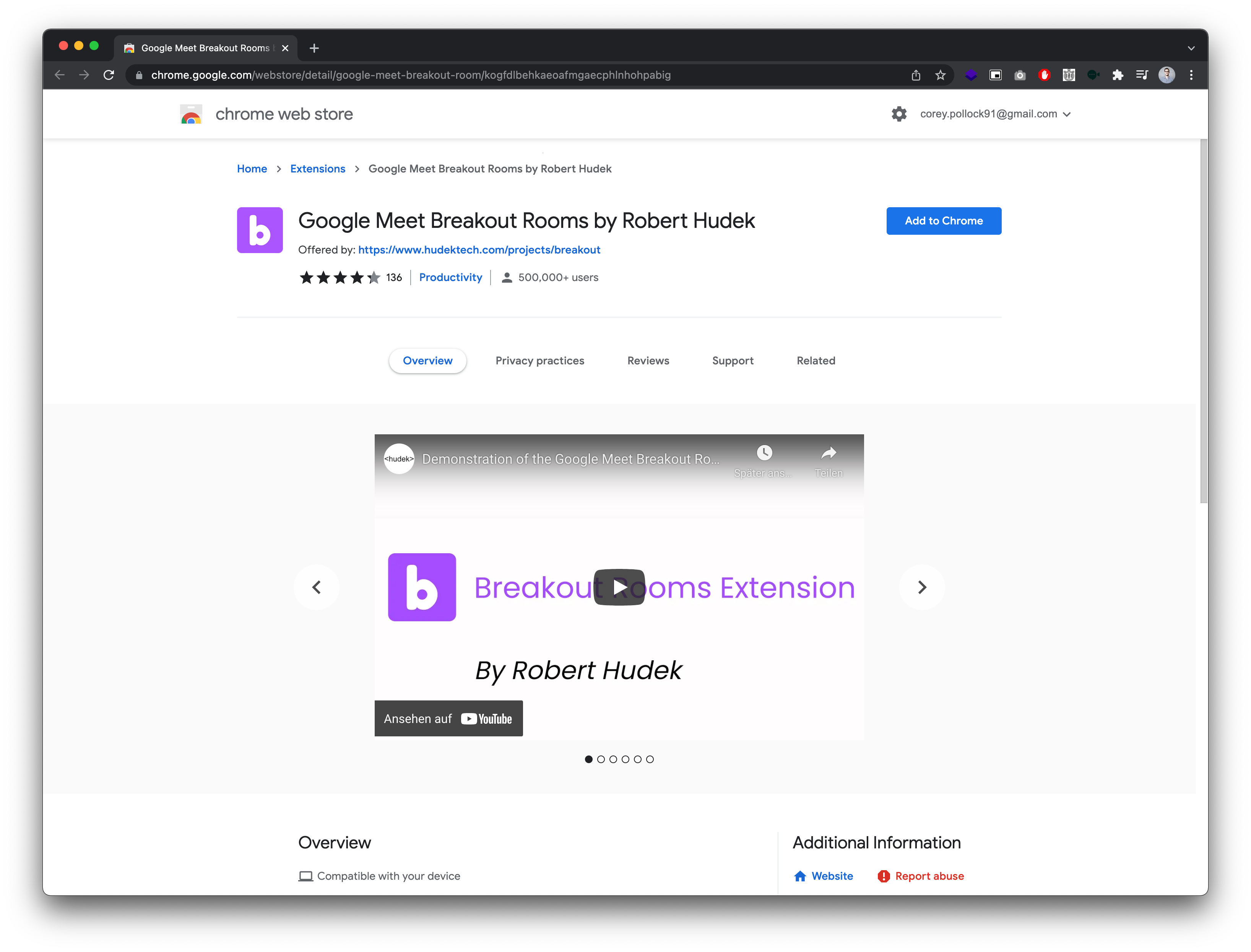 Adds break out rooms to Google Meet. Completely Free and your Data is Private. Google Classroom integration, Slider Control, Nicknames, Help tutorials, and more.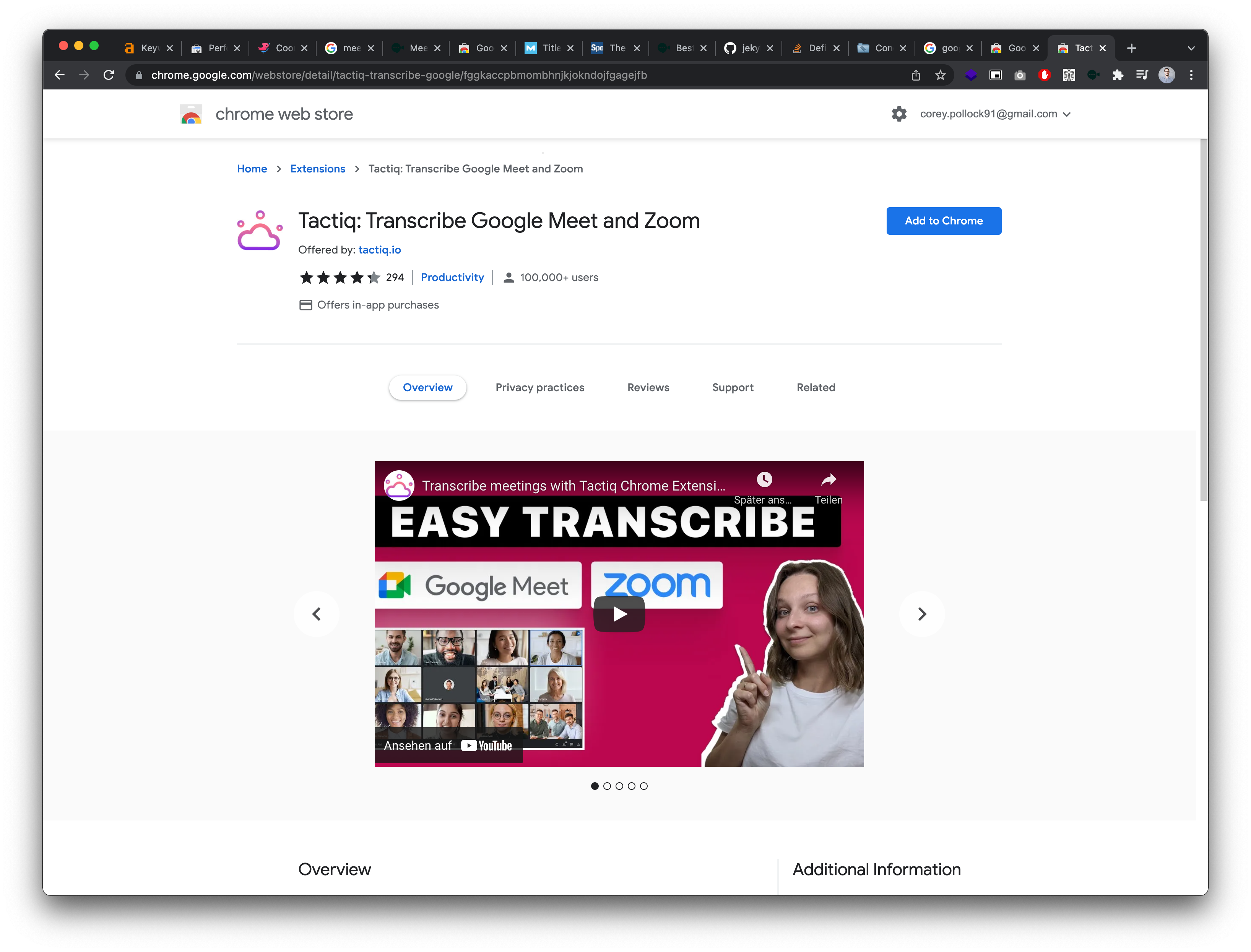 Save Captions and Transcription From Google Meet and Zoom. No more taking notes or missing things - Tactiq takes the notes for you. Sales calls, team meetings, online classes, customer interviews, product research, presentations, masterclass - you can use Tactiq to capture everything everyone says, so you don't miss anything. With Tactiq you can transcribe Zoom and Google Meet, highlight the important stuff, tag action items, save chat, take screenshots and then Tactiq will summarise everything into a Google Doc for you.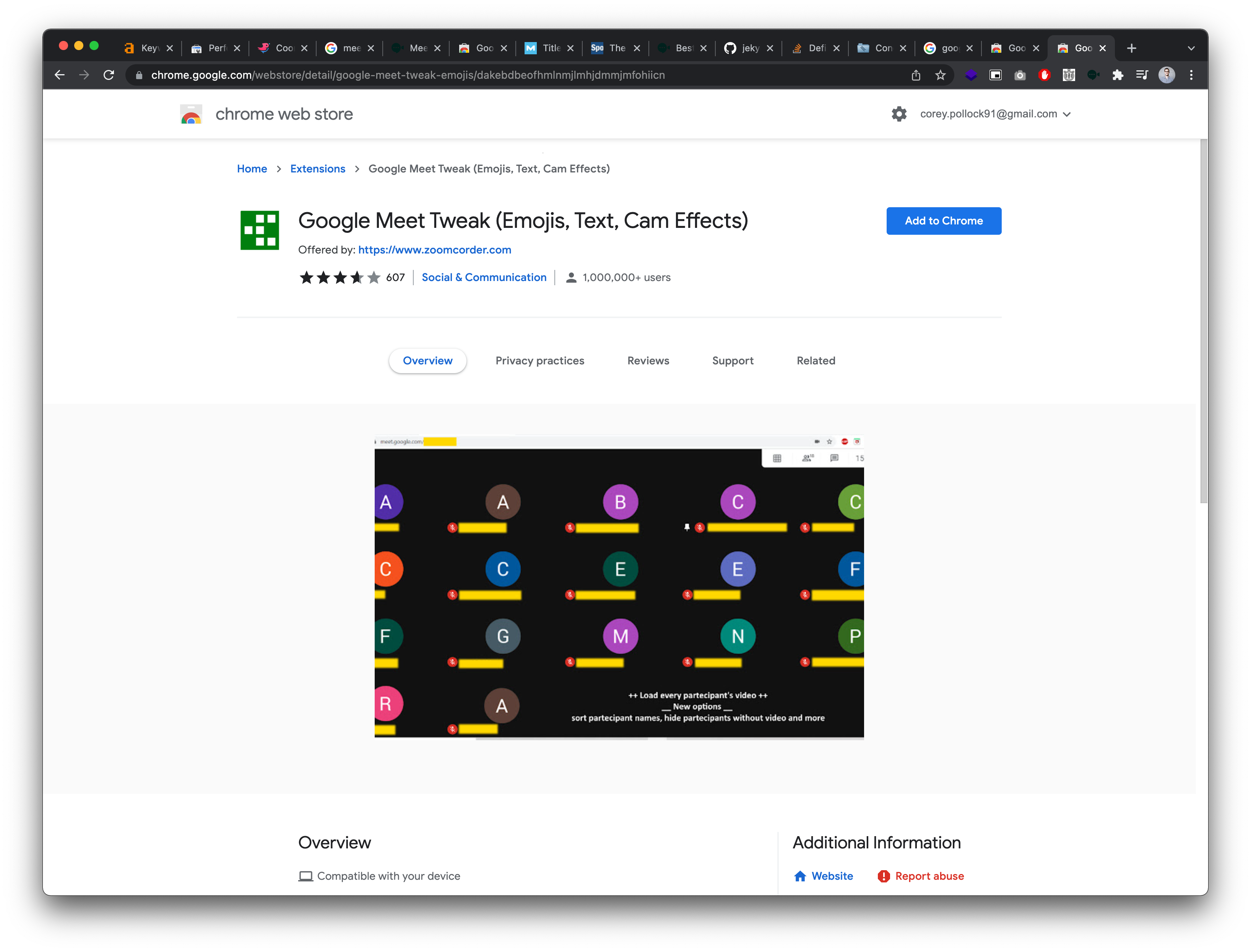 Send emojis, Text Overlay, Cam Effects and layout tweaks in Google Meet + record meetings with Zoomcorder
Publish emojis and text messages on your webcam so other meeting attendees can see them. The emojis and text appear on top of your video making them visible to all attendees - even if chat is off during the meeting. Change them anytime during a meeting to convey a message or mood. Advanced video controls give you pinpoint control of your webcam to add the focus to just the part of your video you desire or create any desired special effect.
Includes some options to enhance your meeting by transforming participant names, hide participants without video, hide selected participants from your grid.
Loopin's Chrome Extension brings meetings, notes, and tasks together on your calendar to make meetings productive. The best part - it's accessible on click of a button, right where you work - Google Chrome, Meet, Calendar, and Mail.
Focus on your work until its time to meet - no more calendar tab searching, no more meeting link searching. Cut down time spent preparing for meetings - add agenda, talking points, meeting notes, assign action items, and next steps - right on the meeting. Jog your memory and get up to speed in no time - Who is working on this? What did we decide? What did we last discuss? - Loopin automagically connects meetings to give you all the answers. Supercharge your productivity!
Best Google Meet Extensions For Teachers and Students
As COVID hit the world there were teachers and students around the world that were forced to begin teaching and learn remotely over Google Meet. Google Meet extensions for teachers and students became critically important as it helped augment their ability to teach and learn reliabiliy and effectively over Google Meet. Below is a list of some of the best google meet extensions for teachers and students in 2022: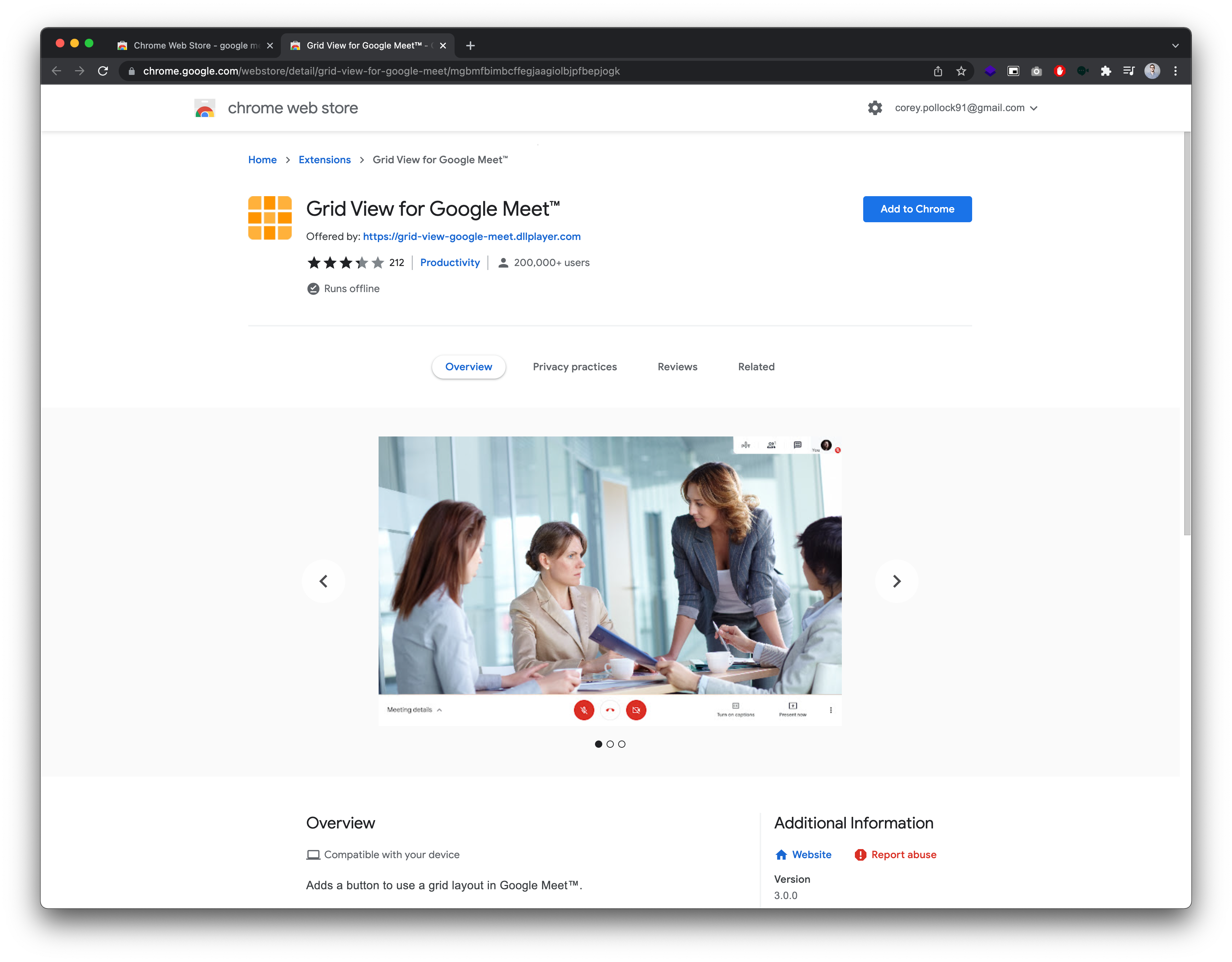 For teachers it's super important to be able to see your entire audience on Google Meet in order to make sure students are paying attention or are even present.
This extension helps to adds a button to use a grid layout in Google Meet. This extension adds a button to the top right bar (next to chat & participant list) to enable grid-view in Google Meet. Grid view gives every participant an equal sized video for use in meetings without a primary speaker (such as working from home silent meetings ).
This extension forcibly loads every participant's video camera, when grid view is enabled and may cause performance issues in extremely large meetings . This software is helpful for Google Meet Grid View, it helps teachers who need to ensure students are paying attention during online classes. It also works for google hangouts meet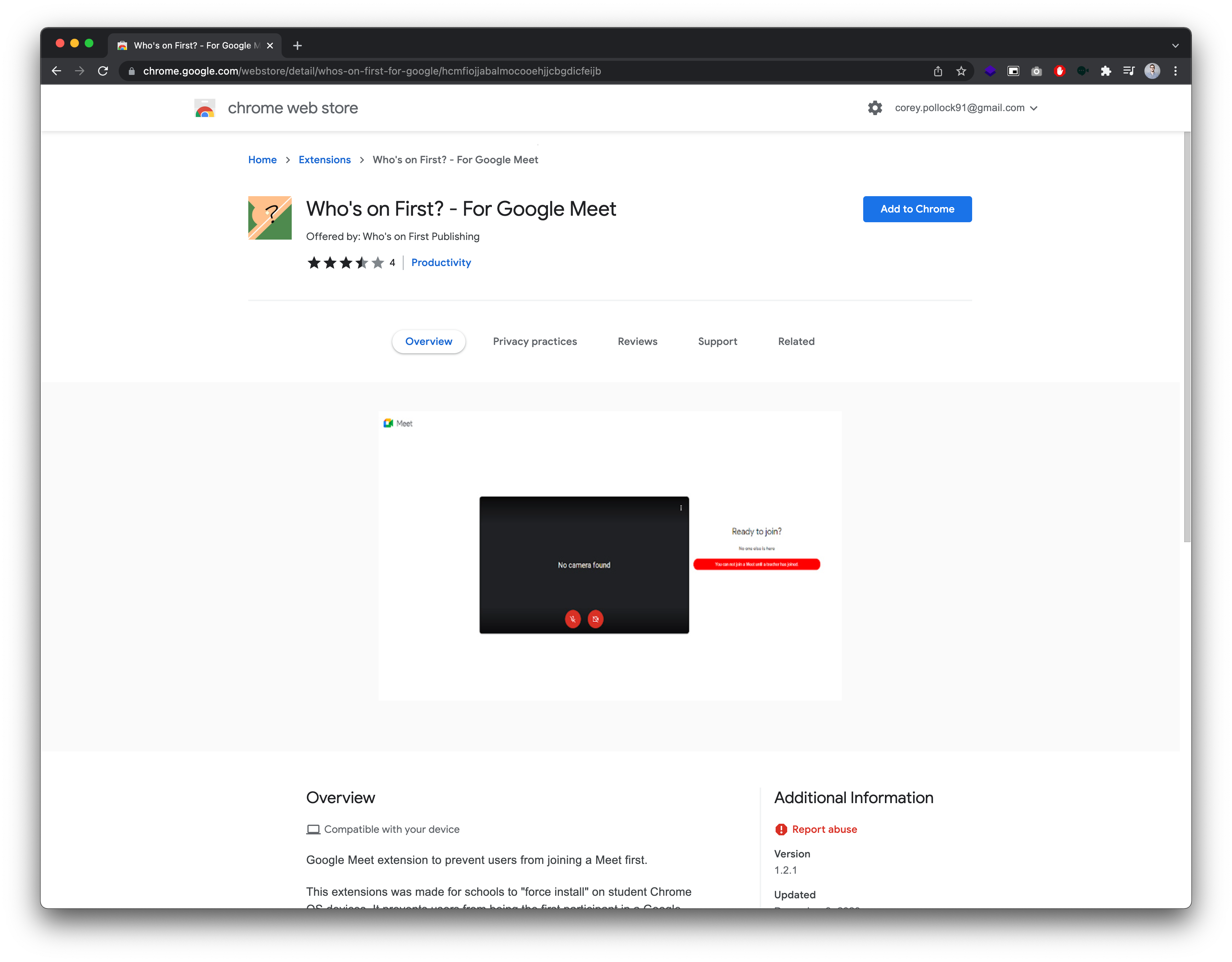 Google Meet extension to prevent users from joining a Meet first. This extensions was made for schools to "force install" on student Chrome OS devices. It prevents users from being the first participant in a Google Meet. This tactic should also prevent students from becoming the host or joining an orphaned meeting.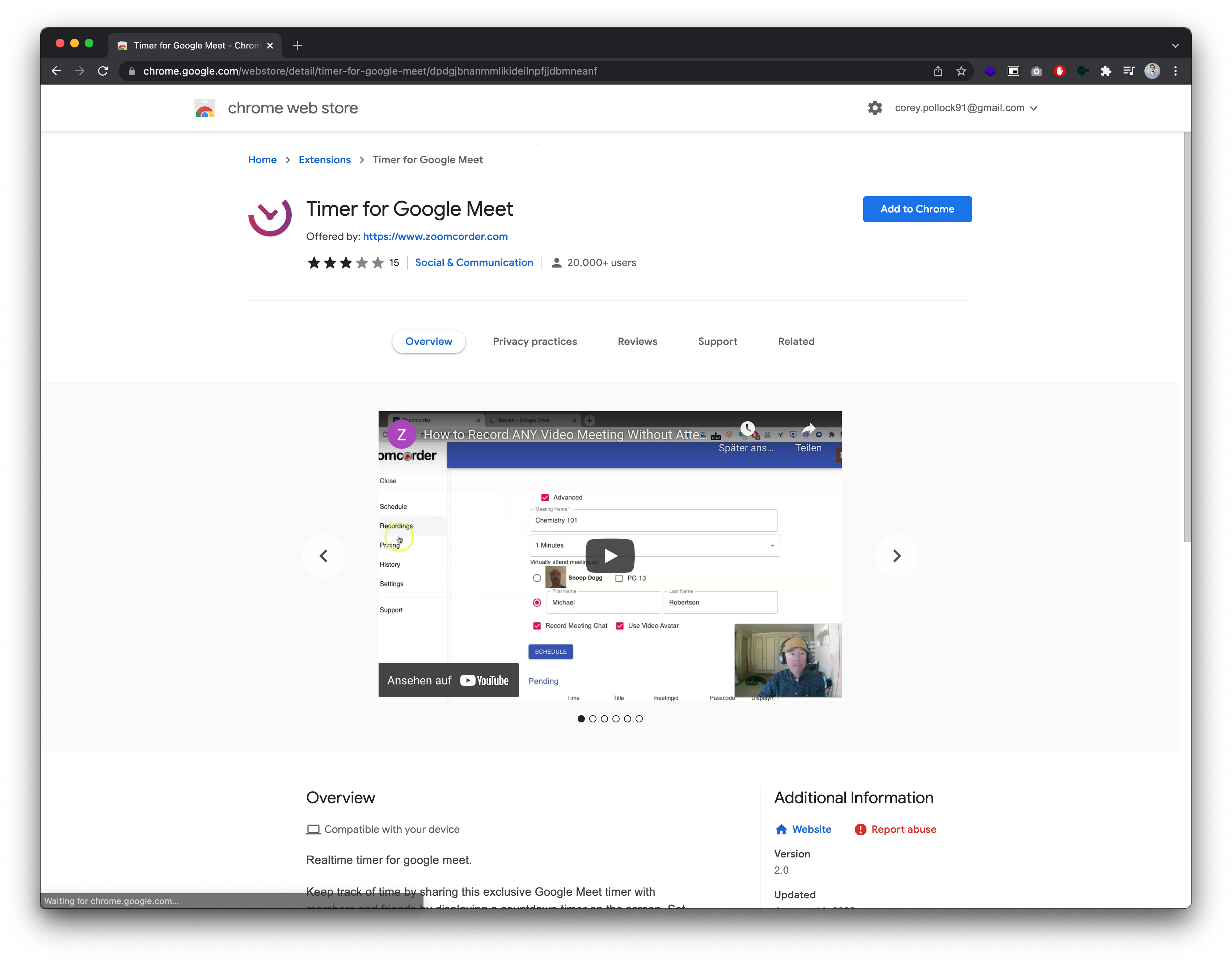 Realtime timer for google meet. Keep track of time by sharing this exclusive Google Meet timer with members and friends by displaying a countdown timer on the screen. Set the countdown to match your needs and stay on track.
Best Extensions For Google Meet
There you have it – the top 6 best google meet extensions in 2022. There's plenty more chrome extensions for Google Meet, so make sure to head over to the Chrome Store and search for yourself.
---
Google Meet, with super powers ⚡️
Meet Pro adds over 25 new features that makes Google Meet a little more like Zoom.
Join the family of other remote workers who are using Meet Pro to make their work from home lives easier.
Start 7-day free trial

→
Mute All
Mute all participants in a Meet with a single click
Speaker Highlight
Adds a border around speaking participants
Auto Admit New Entrants
Automatically admit all new entrants – no more annoying pop-up
Mirror Videos
Mirrors all videos in the Meet
Picture-in-Picture
Display a single participant in a hovering video
And much more!
New features released every month. View our roadmap to see what we have planned
---
More from the blog
Working from home or from a remote location can sometimes mean you're somewhere that has a lot of background noise. The noise in the background can often trigger your microphone on Google Meet, causing an annoyance to the people you're chatting with.
Read More

→
---
When on a Google Meet with a lot of participants it often happens where many of the participants do not appear on your screen, whether you're presenting or not. In this post we'll solve the mystery of how to see everyone on Google Meet...
Read More

→
---
One of the best parts of video conferencing is the ability to record the meeting so it can be reviewed later on. In this post we'll walk through everything there is to know about recording meetings on Google Meet, covering the top questions asked about recording video on Google Meet, and the best tools to use to capture the most information about your meetings...
Read More

→
---
Back to the blog

→