How to record Google Meet
17 Jun 2022 - Corey Pollock
One of the best parts of video conferencing is the ability to record the meeting so it can be reviewed later on. In this post we'll walk through everything there is to know about recording meetings on Google Meet, covering the top questions asked about recording video on Google Meet, and the best tools to use to capture the most information about your meetings...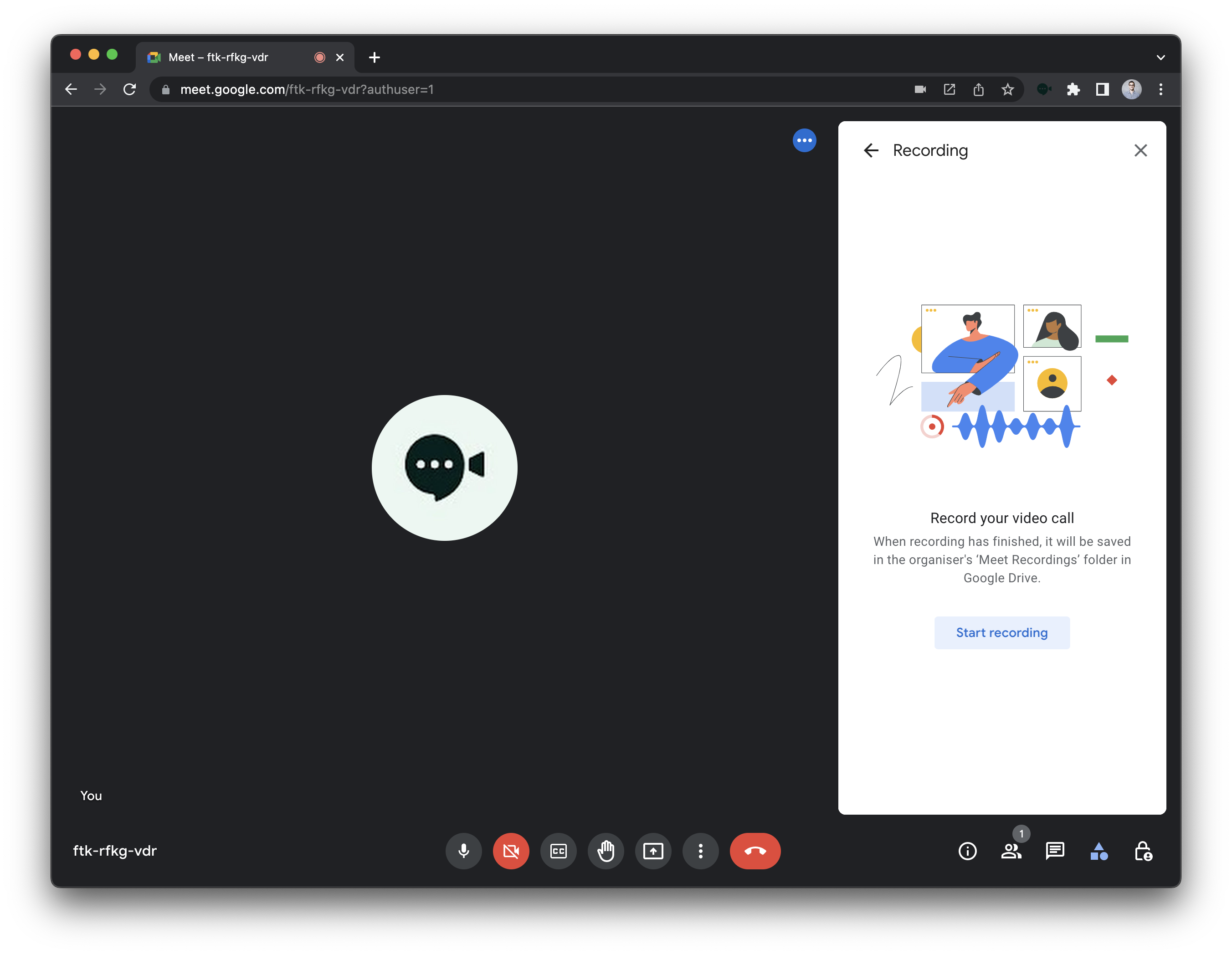 Why record meetings on Google Meet?
Recording your meetings is an important part of creating quality content for your business. It's important to record meetings so that you can go back and review the session later on if you need to refer back to something specific. You can also use the recordings as training materials for new employees or colleagues who were not able to attend your event.
When you record a meeting on Google Meet, you get a recording that you can share with others. Here are some reasons why you might want to record Meetings on Google Meet:
To capture the group's ideas about a project or task. When everyone is focused on something specific — like brainstorming ideas for a client presentation — having a record of those ideas will come in handy later on.
You can also use the recording as a reference (just like you would use an audio or video file) to refer back to later if the meeting was important.
To share discussions with those who weren't able to attend.
Who can record Google Meets?
Unfortunutely in order to be able to record a meeting on Google Meet you will need to be registered for one of their paid Google Workspace plans.
You can record video meetings with these Google Workspace editions:
Essentials
Business Standard
Business Plus
Enterprise Starter
Enterprise Essentials
Enterprise Standard
Enterprise Plus
Education Plus (Available to users with a "staff" and "student" license)
Teaching and Learning Upgrade (Available to users with a "Teaching and Learning Upgrade" license)
Workspace Individual Subscriber
How do you record on Google Meet?
If you want to record the Google Meet video, you can do so by using the web app or the mobile app.
In the web app, click on the three dots in the top right corner and select "Start recording." In the mobile app, tap on the menu in the upper left corner, then choose Start Recording.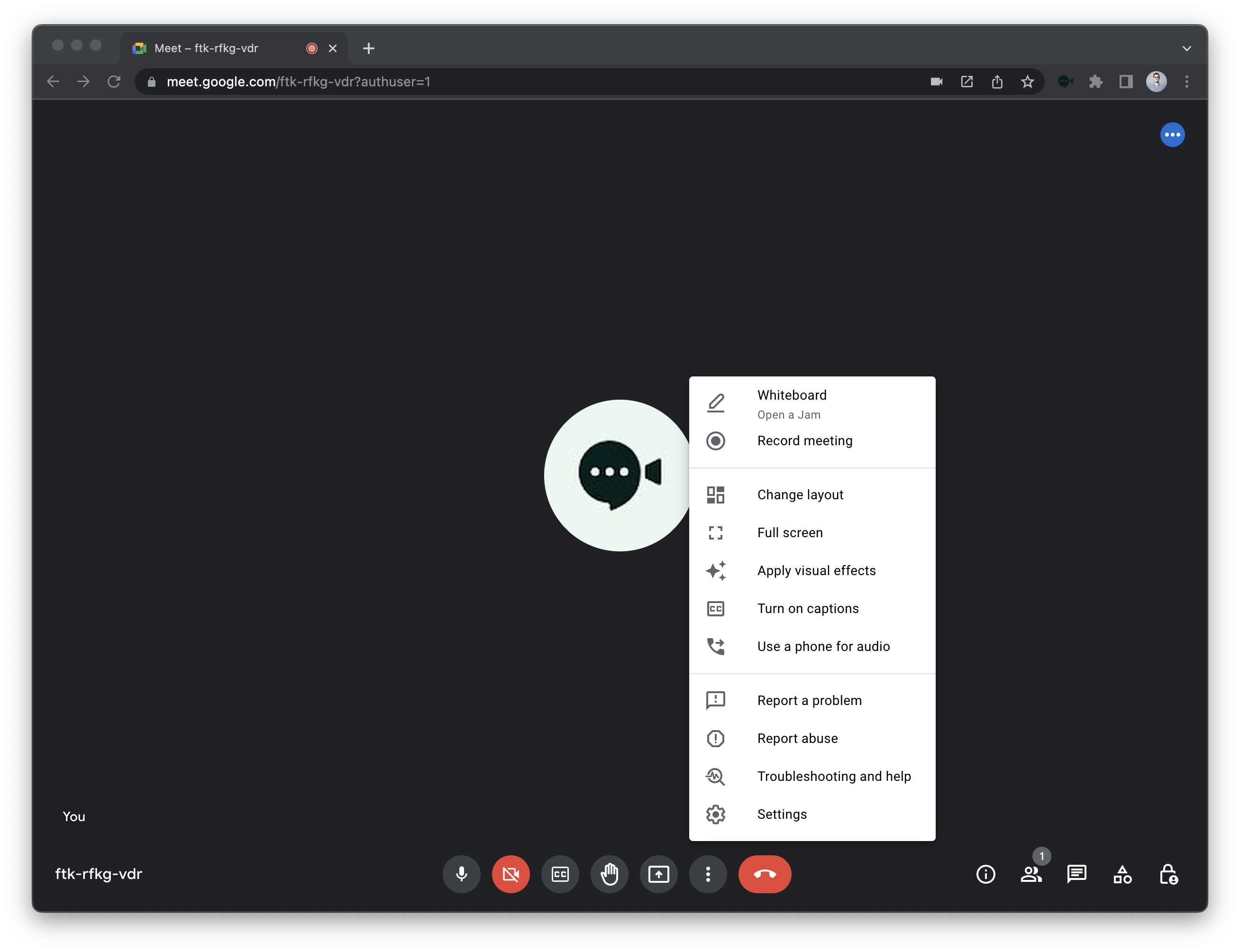 Your recording should start automatically. You'll see an orange circle appear next to your username on all participants' screens, letting them know that they're being recorded.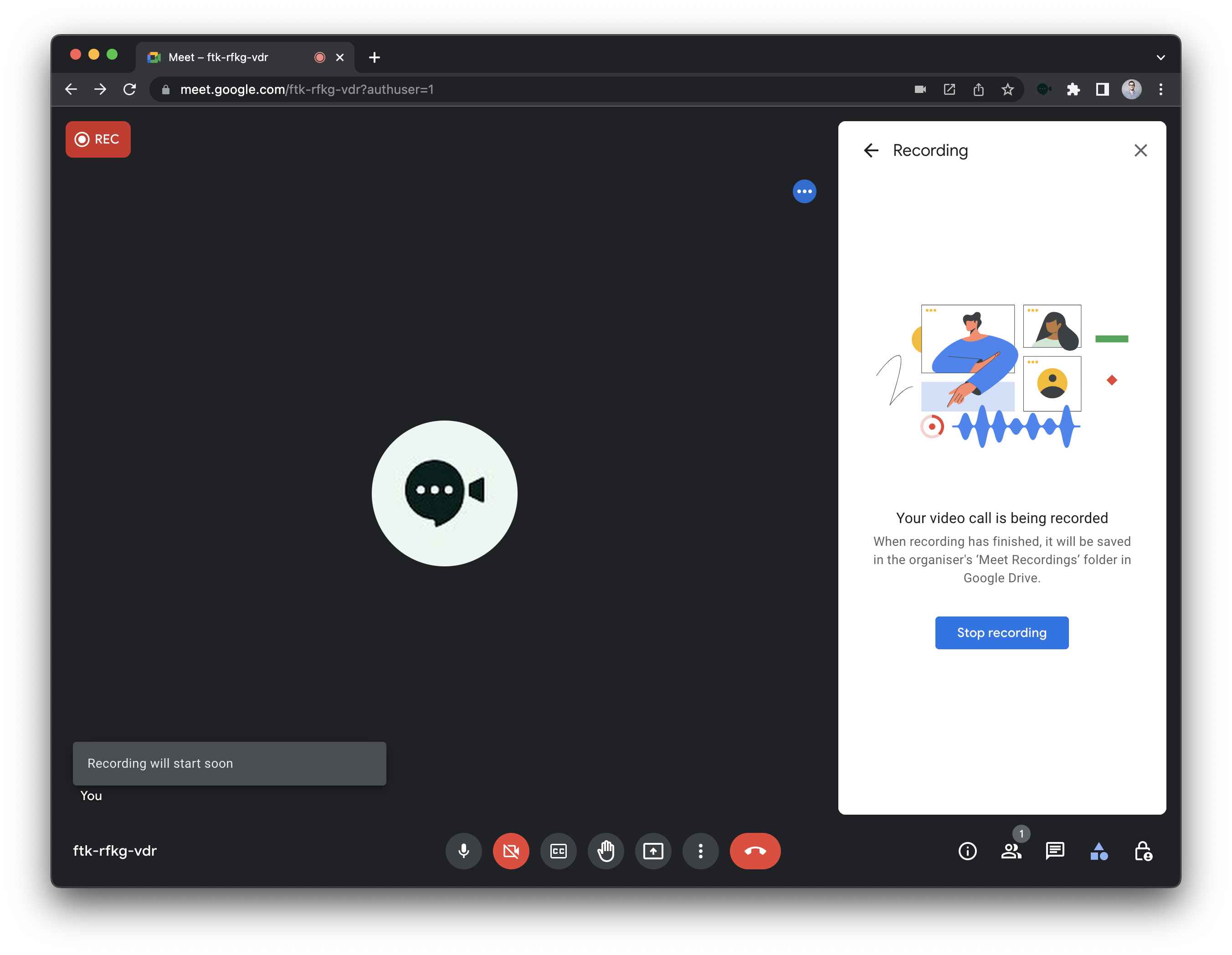 If I leave the Google Meet will it continue recording?
If you need to leave the meeting for any reason, your recording will continue to record until the end of the session, as in when all participants have left the Google Meet.
When does the Google Meet stop recording?
The Google Meet recording will stop once either all participants have left the Meet, or if the recording is stopped manually by the host.
How do I view my Google Meet recording?
Once the Meet has ended and all participants have left, Google will begin processing your recording in the background. Once it's processed the recording will become available automatically in the Google Drive of the Google Meet Host (whoever set up the meeting initially). The host can then share the file with participants. These files often appear in a new folder in your Google Drive titled "Meet Recordings."
Depending on your Google Workspace organization's settings, the recording file may also appear within the attachments of the Google Calendar event.
Does recording record all participants or just the ones that are speaking?
Unfortunately, Google Meet recording does not record all participant videos in the same way as if you were in the Meet itself. Instead, the recording will capture the individual videos of the active speaking participants or any presented video.
Will captions be recorded as a part of the recording?
No, unfortunately captions will not be recorded as a part of the Google Meet recording. Only the Google Meet chat conversation will be recorded and stored for your review later on.
If you are interested in recording the captions in a Google Meet, read on below to see our best recommendations for Google Meet transcription apps.
Are chat conversations also saved in the recording?
Yes! The Google Meet chat will be saved as an .SBV file in the meeting organizer's Google Drive after the recording has ended.
How to stop a recording on Google Meet
When you're finished recording a Google Meet you can simply get all participants to leave the Google Meet at which point Google will automatically stop the recording. Alternatively, you can stop the recording manually by selecting the `..` menu in the bottom bar, selecting the 'Recording' option, and then click the 'stop recording' button
How to automatically record a Google Meet

With so many meetings and lots of things to remember, it's common for people to forget to start recording when a Google Meet begins. This leads to losing out on valuable information and moments.
That's why we built the auto-recording feature for Meet Pro. With auto-recording you can set the Google Meet to automatically start recording the moment you join the meeting. No more forgetting, or having to remind yourself everytime you join a Google Meet.
If you don't want the Meet to automatically start the recording but instead you just want to be prompted to start recording it manually, you can do that as well.
With Meet Pro, you'll add 25+ amazing features that make Google Meet a little more like Zoom. Get it today for 10% off!
Get 10% off Meet Pro today

→
Transcribing Google Meet meeting notes and captions
Video recordings are a great way to review what happening within a meeting, however the words that were said are also very valuable. Unfortunately Google's basic recordings do not including the capturing of captions, however there are plenty of tools on the Chrome Web Store that allow you to record and transcribe captions on Google Meet. These transcribed captions are stored away in a document so you can edit and review them later on in a text format along side your video recording.
Here are the top transcribing Chrome Extensions for Google Meet:
Otter.ai offers the best automatic live transcription and note-taking experience for virtual and in-person meetings. Otter.ai is available in English across Web, iOS, Android, Zoom, Google Meet, Microsoft Teams, and Cisco Webex.
With Tactiq you can transcribe Zoom and Google Meet, highlight the important stuff, tag action items, save chat, take screenshots and then Tactiq will summarise everything into a Google Doc for you.
Conclusion
In this post we've covered why you should record meetings on Google Meet, as well as how you can actually go about recording on Google Meet. We also answered all the most important and commonly asked questions in regards to how to record in Google Meet.
We hope this blog post showed your all there is to know about how to record on Google Meet, and answered all the questions or concerns you had.
Google Meet, with super powers ⚡️
Meet Pro adds over 25 new features that makes Google Meet a little more like Zoom.
Join the family of other remote workers who are using Meet Pro to make their work from home lives easier.
Start 7-day free trial

→
Mute All
Mute all participants in a Meet with a single click
Speaker Highlight
Adds a border around speaking participants
Auto Admit New Entrants
Automatically admit all new entrants – no more annoying pop-up
Mirror Videos
Mirrors all videos in the Meet
Picture-in-Picture
Display a single participant in a hovering video
And much more!
New features released every month. View our roadmap to see what we have planned
---
Back to the blog

→