Google Meet Attendance Extension
13 Mar 2022 - Lundin Matthews
Attendance taking is a critical tool for any teacher. Now that teaching has become remote, knowing which students are in the classroom and at what time has become increasingly difficult...
That's why we created Meet Enhancement Suite Attendance – the easiest attendance tool on the Chrome Store. Our new attendance feature for Google Meet, available to all Meet Pro users, makes taking your classes attendance as simple as a single click.
Read on below to learn how to take advantage of this new feature.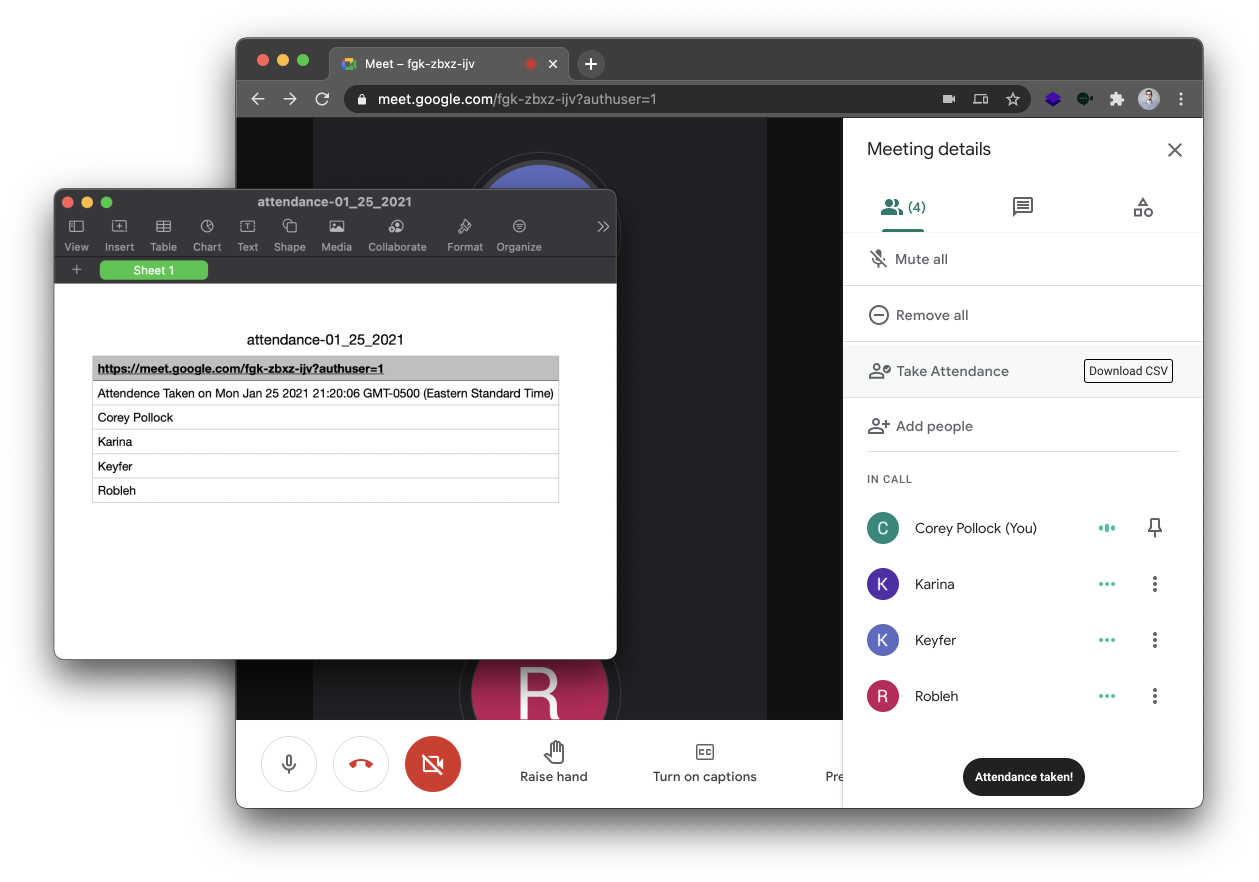 How to take attendance
To start taking attendance, first make sure your are signed-up for our Meet Pro subscription, and have activated your subscription inside the Chrome Extension.
Open the participants panel
You can access the attendance feature through the Google Meet participants menu – located in the top right hand corner of your Google Meet. Click the participants icon to open the menu.

Click the attendance button
Next step is to take attendance of the class – to do so simply click the Take Attendance button. You should now see a confirmation bubble at the bottom of the participant menu which reads Attendance Taken!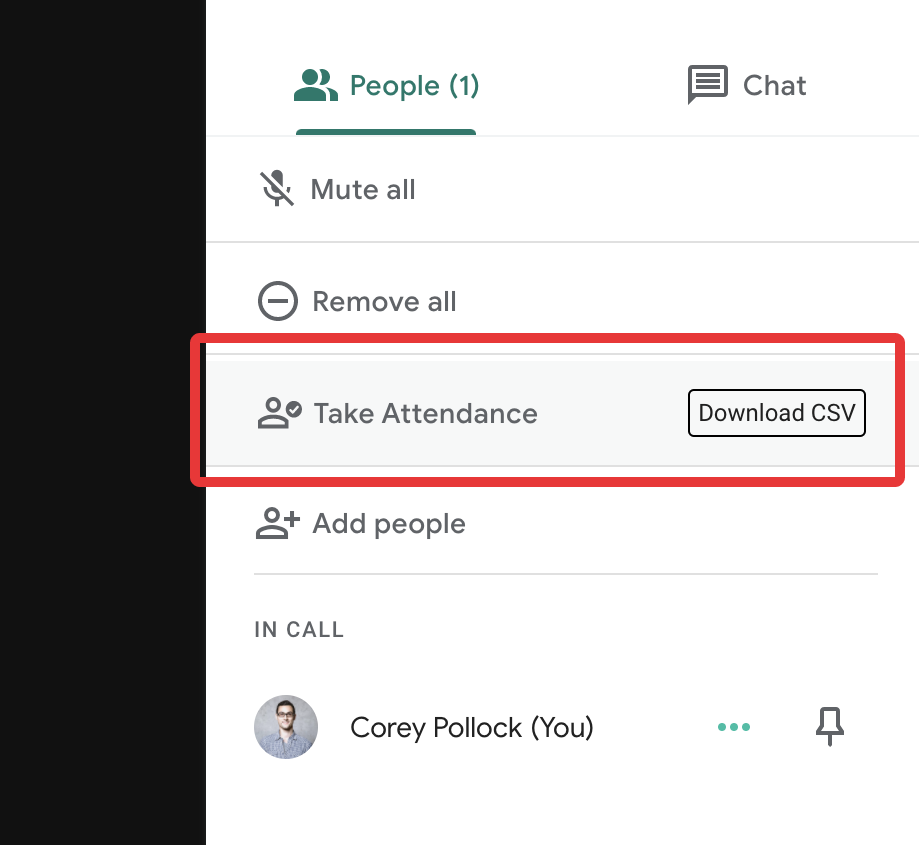 You are able to take attendance as many times as you like during the Google Meet session. Each time you click the Take Attendance button, a new time-stamped list will be captured within a CSV file. Taking attendance multiple times per session will allow you to keep tabs on which students were present at what times (see an example of this in the image below).
Export your attendance
Our last step is to export your Google Meet sessions attendance. From the participants menu, within the Take Attendance, you will see a button that reads Download CSV. Clicking this button will download a .CSV file to your computer which contains your attendance data.
Please note: you must download the CSV before leaving the Google Meet session. Once you leave the session you will no longer be able to export your attendance for that session.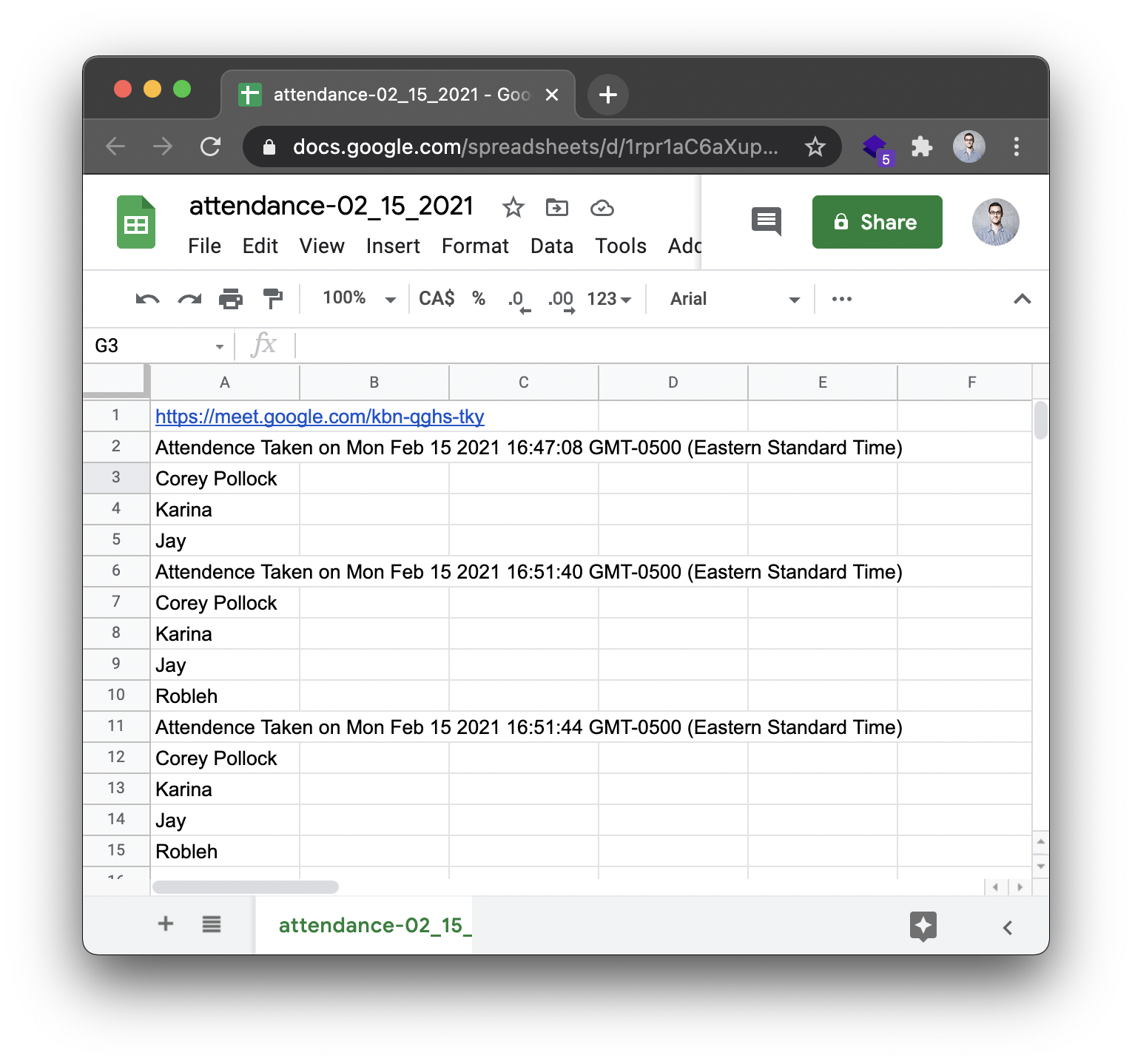 In conclusion
There you have it – you are now an attendance taking pro. If you have any questions or feedback about this feature we'd love to hear from you! Simply email us at hello@meetenhancementsuite.com
With Meet Pro, you'll get Google Meet attendance along with 20+ other amazing features that make Google Meet a little more like Zoom. Get it today for 10% off!
Get 10% off Meet Pro today

→
---
Google Meet, with super powers ⚡️
Meet Pro adds over 25 new features that makes Google Meet a little more like Zoom.
Join the family of other remote workers who are using Meet Pro to make their work from home lives easier.
Start 7-day free trial

→
Mute All
Mute all participants in a Meet with a single click
Speaker Highlight
Adds a border around speaking participants
Auto Admit New Entrants
Automatically admit all new entrants – no more annoying pop-up
Mirror Videos
Mirrors all videos in the Meet
Picture-in-Picture
Display a single participant in a hovering video
And much more!
New features released every month. View our roadmap to see what we have planned
---
More from the blog
When on a Google Meet with a lot of participants it often happens where many of the participants do not appear on your screen, whether you're presenting or not. In this post we'll solve the mystery of how to see everyone on Google Meet...
Read More

→
---
One of the best parts of video conferencing is the ability to record the meeting so it can be reviewed later on. In this post we'll walk through everything there is to know about recording meetings on Google Meet, covering the top questions asked about recording video on Google Meet, and the best tools to use to capture the most information about your meetings...
Read More

→
---
By default Google will use your Gmail account name as your name on Google Meet. This is often what you want to use as your preferred name in Google Meet, but sometimes there may be situations where you want to change your name on Google Meet. In this post we'll walk you through the two main ways of how to change your name on Google Meet...
Read More

→
---
Back to the blog

→